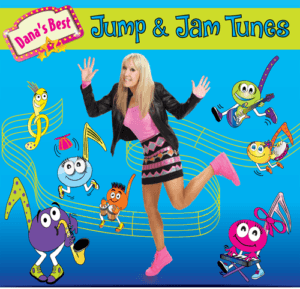 Dana's Best Jump & Jam Tunes
Dana's exciting and highly interactive album features 12 songs designed to get kids ages 1 to 7 up and moving, grooving and laughing. Wordplay, catchy melodies, and top-notch musicianship make this an engaging album of mostly original songs for the whole family to enjoy together.
This "musical party" features genres from rock to bluegrass, jazz, country and pop. Inspired by her 20-plus years of working with children and her own experiences as a mom, Dana Cohenour wrote these songs with preschoolers in mind while respecting adult ears in production and musical styles.
Fun for listeners includes counting songs ( "Legs" and a bluegrass spin of "Five Green and Speckled Frogs"), a Latin music inspired freeze dance ("Jumping Beans"), a rock & roll "Wiggle Workout," an egg shake ("Shakin' Things Up"), and a jazzy jumping jive dance ("Jump & Jive"). Humor is the hallmark of Dana's story songs ("Barnyard Hoedown" and "Fish Tale"), and she asks kids to help make the planet smile with her inspirational "Do My Part." Folks are invited to clang on pots and pans with "Grandma's Kitchen Band," and to move like the animals in "Follow the Leader." The album wind downs with the gentle musical hug that is "I Love Mommy."
Get the Lyrics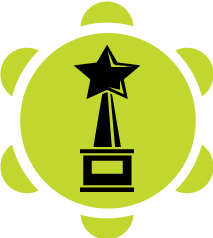 Winner:  National Parenting Product Awards (NAPPA) 

Winner: TOP TEN of 2017 by SCHOOL LIBRARY JOURNAL
Winner: Family Choice Awards 
MIDWEST BOOK REVIEW CHOICE PICK!
Buy Now at CD Baby
Buy Now on iTunes

…parents have a solution to the traumas of traveling with toddlers and preschoolers!  'Dana's Best Travelin' Tunes! Songs To Shorten The Ride' are sure to do just that! …original songs and adaptations of familiar classics that will set little imaginations free from the confines of the car and send them on a fun and funny musical adventure.  The songs will appeal to adults and children!" – Kansas City Parent