Raves for Dana's Recordings
Family Choice Awards (2017 Winner)
"Eggs will be shakin', legs will be movin' and little frogs will be jumping to these fun tunes."
Parents' Choice Awards
"Dana….sings in a strong and expressive voice about a range of subjects designed to get children moving. Jump & Jam Tunes features tuneful, original music, professional musicians, and a set of good songs written and performed by a skilled vocalist."
Kids Rhythm and Rock
"This high octane album is filled with songs that would be perfect during library storytimes, summer camp dance breaks or just getting the wiggles out at home."
". . . .inspire(s) children to move!"
". . . .inviting kids to get off their screens and start dancing, jumping, playing and singing."
"This collection is perfect for the family living room dance parties, pre-school circle time, and just jammin' in the car on summer vacation."
"These songs are so positive and upbeat, little ones are happy to get moving and have fun!"
Dana's Best Rock & Roll Fairy Tales!
Not So "Grimm" Versions of Classic Stories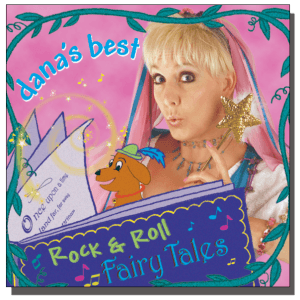 CHILD Magazine ( Winner: Best of Children's Music)
"Dana continues to amaze listeners with her breadth of talent. Be it her hilarious comic character voices or enthusiastic delivery of these well-crafted fairy tale (tunes), this album will delight parents & children."
Publisher's Weekly
"Everything old is new again on this bouncy recording of fairy tales set to a rocking beat… with fresh rhyming, rhythmic lyrics and Dana's strong, upbeat vocals, the stories sparkle!"
Tribune Media Services (400 Newspapers Nationwide)
"You just can't beat Dana when it comes to quality kids' entertainment! (Dana) will have children rockin' and boppin' with the cool music and laughing at her storytelling antics on (this) fun and engaging album the whole family can enjoy!"
Nashville Parent
"Dana rocks! …quite literally on this, her fifth release… The music is high energy, the production is phenomenal and Dana's voice characterizations and humor shine… Remaining true to her trademark, Dana's effervescent energy and impeccable talent transcend the final product, outdoing herself once again."
Parents' Choice (Silver Honor Award)
"…(Dana's) fairy tales bop to an irresistible beat, thanks to clever children's singer Dana and her happenin' happily-ever-after story songs."
Booklist
"Dana has created a set of original story-songs that will be fun for both kids and parents…kids will sing along instantly…perfect to get kids dancing.  A children's chorus and a talented band match Dana's infectious enthusiasm in this rockin' recording."
Dana's Best Sing & Swing-A-Long Tunes!
Classic & Cool Jazz For Kids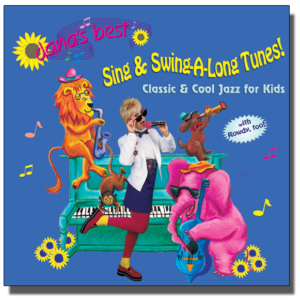 Publisher's Weekly
"Kids are sure to get the dancing bug while listening to Dana's jumpin' renditions… this upbeat collection is a solid addition to a child's
music library."
CHILD Magazine
"…these sing & swing tunes will have the kids jumpin'! Dana's energy and enthusiasm are contagious!"
Parents Magazine
"Dana romps through an armload of jazzy standards …it's all great fun!"
Sesame Street Parents Magazine
"With a voice that's smoky, tuneful, and full of fun, Dana breezes through some classic jazz tunes… all the songs have a lot of spirit.
This is one recording that will entertain adults as well as intrigue young listeners."
Family Fun Magazine
"…this engaging album is the latest from sunshiny children's performer Dana…here the singer, songwriter, and stylist delivers vocal jazz standards
from the thirties to the sixties, as well as original compositions, all decked out in brassy, kid-friendly arrangements."
South Florida Parenting
"Dana has scored another hit with this innovative album for young children!"
Booklist
"This thoroughly professional production is a bebop treat. The musicians are impeccable from the muted trumpet and shuffling drummer to Dana's kinetic voice. This recording will appeal to new listeners as well as to more than a few swingin' relics."
Los Angeles Times
"Dana's bouncy, well-schooled soprano is a delight in these well-chosen selections of old & new…Dana offers kids a terrific introduction to (classic jazz) and her own original songs fit right in to keep toes tapping!"
Nashville Parent
"We're tipping our hats to Dana and giving her an enthusiastic "Bravo!" It comes as no surprise why this is an award-winning album. Dana's strong delivery, coupled with a powerful and energetic musical backdrop serves as a fabulous way of introducing children to the wonderful world of jazz.
School Library Journal
"This fun recording will be popular with kids, their parents and their grandparents!"
Tribune Media Services
(400 Newspapers Nationwide)
"Music for young children doesn't get much better than this! Upbeat tunes with snappy, singable lyrics and action songs encouraging positive movement are just right for the little kids in your life!…you can be assured of keeping the interest of even your youngest family member."
Val Smalkin; Syndicated Columnist
(11 National Parenting Magazines)
"Dana's voice is bouncy, the music is country and rock 'n rolly…she's fun, loves to sing & loves children. She makes Itsy Bitsy Spider beautiful…this is the right choice for rainy afternoons and car rides."
John Wood
(35 Parenting Publications Nationwide)
"…a wide variety of catchy musical styles : cajun, rap, blues, boogie, folk and pop with a mixture of original and traditional tunes that encourage audience participation. Nice arrangements with music by some of Nashville's finest musicians!"
Big Apple Parent's Paper
"Dana's energy is infectious… (her) genuine enthusiasm and bubbly personality come shining through. These songs will stimulate youngsters' bodies and minds…(and) encourage vocal and physical participation."
Dana's Best Travelin' Tunes!
Songs To Shorten The Ride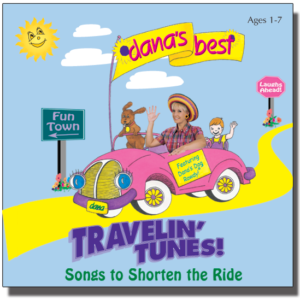 Colorado Parent
"Dana's Best Travelin' Tunes will make any trip seem to fly by…Dana's distinctive voice is memorable, and her energy is absolutely contagious…Dana's music is a winner in my car!"
Kansas City Parent
"…parents have a solution to the traumas of traveling with toddlers and preschoolers! Dana's Best Travelin' Tunes! Songs To Shorten The Ride' are sure to do just that… original songs and adaptations of familiar classics that will set little imaginations free from the confines of the car and send them on a fun and funny musical adventure. The songs will appeal to adults and children!"
Jim Chase & John Wood
(35 Parenting Publications Nationwide)
"…on this latest collection of high-octane favorites (Dana) and a turbo-charged band of Nashville session players sing and play about almost every subject imaginable. It's enough to make any trip in the car a magical, whimsical ride to adventure."
 Dana's Best Lullabies and Morning Songs!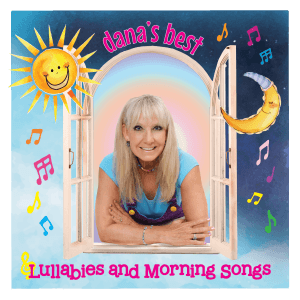 John Wood & Jim Chase
(35 Parenting Publications Nationwide)
"Dana has produced an album of songs as fresh and unique as her very distinctive voice… This release is at once both original yet comfortably familiar after just one listening."
Booklist
"Dana's voice is as crisp and clear as the morning air that is heralded in this collection… a nice selection of soft, sweet music."